A version of this blog first appeared on the Huffington Post
Last weekend's news was dominated by the political fallout from Iain Duncan Smith's resignation and by signs of growing political unease around the latest proposed cuts to welfare.
For years we have warned that the government can't just cut away the housing benefit that five million households rely on before building the hundreds of thousands of genuinely affordable homes we need. But could there be signs that the billions taken out of the welfare budget in repeated waves are beginning to cause politicians real discomfort?
Homelessness statistics published last week by the government suggest that they are already causing serious hurt to thousands of families. In 2015, over 40,000 families were found to be homeless and in priority need for help by their local council. That's a staggering rise of 42% in just five years – and a reversal of the steep decline in homelessness that happened between 2003 and 2009.
Tellingly, almost a third of households became homeless for the simple reason that their private tenancy came to an end and they were unable to find anywhere else they could afford to live. A symptom of our chronic housing shortage and dwindling support from housing benefit.
And these figures show that it's not just low income households struggling to find somewhere suitable, councils are clearly struggling too: In England alone, over 100,000 children are currently homeless in temporary accommodation. The number of homeless families put up in emergency B&Bs and hostels has doubled in just five years. One in four homeless households are housed outside of their local area, the highest number on record.
This means more than 100,000 children growing up without a stable home. Parents in temporary accommodation not knowing when they will have to take a day off work to move their boxes of belongings across the country. Not knowing if they will have to find their children a new school, or whether they'll make new friends and learn to trust another teacher. Thousands of parents waiting to see if the next place they stay has a bathroom they don't have to share with twelve other families, or enough space for their children to have a bed to themselves.
But we know that this is just part of a much bigger problem. The thousands of officially homeless families in England have to be added to the thousands more bouncing from flat to flat, borrowing money to pay the rent. The parents struggling to keep their children safe, as wages fail to keep up with spiralling rent costs and the support they can draw on dwindles. Thousands of children living in appalling conditions.
All of these problems could have been eradicated had successive governments gripped the housing issues we are now facing. And they are a further reminder of how crucial a functioning housing benefit system is.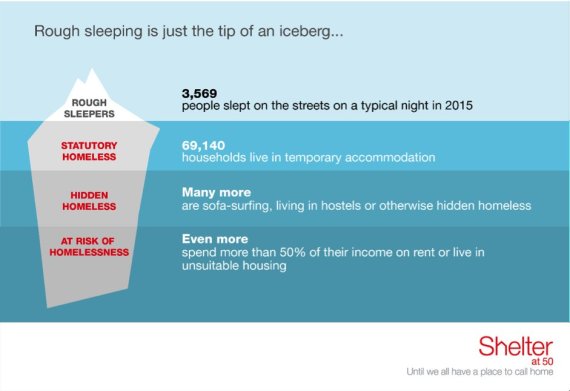 Shelter was founded in 1966 to make people aware of the chronic overcrowding and slum conditions that children were being forced to grow up in. Things have changed. The slums are gone. And thanks to the vital homelessness safety net built in the seventies, we don't see children on the streets. But fifty years on, it is hard not to conclude that things are again turning for the worse.
Today's homelessness statistics reveal what happens as welfare cuts bite harder and our housing shortage leaves more and more families out in the cold.
But we have solved chronic housing problems before, and we can solve them again.
The government needs to tackle this problem head-on by building more affordable homes, and improving safety and security in the private rented sector.
Crucially, it is yet another reason why they should look again at some of the cuts to welfare benefits, especially the twelve billion in cuts that haven't even been implemented yet. Together we can stop the scourge of homelessness damaging lives.